Dr. Christine Rodgers, MD in Denver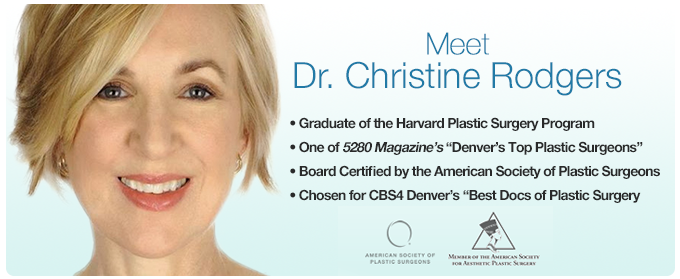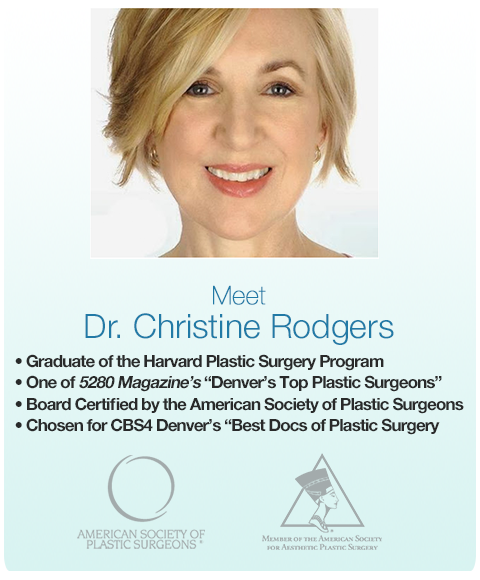 Building a team of trained surgical and aesthetic professionals is one thing. Ensuring every member of that team is as respectful and dedicated as Dr. Rodgers herself is quite another. From the moment you walk through our door, you can tell that there's something special about Denver Plastic Surgery. It's not just an office. It's a destination—one where you'll feel safe, comfortable and in experienced, skillful and caring hands.
Dr. Christine Rodgers, M.D.
Dr. Christine Rodgers is one of the top rated plastic surgeons in Denver Colorado. She has gained renowned success over the past three decades for her unparalleled passion for her patients and experience in plastic surgery. Board-certified by the American Board of Plastic Surgery and an expert authority in aesthetics and skincare, Dr. Rodgers is a strong advocate for the overall well being of her breast cancer patients, as she herself is an inspirational survivor.
Dr. Christine Rodgers earned her M.D. at Hahnemann Medical College (now known as the Drexel University College of Medicine) in Philadelphia, Pennsylvania, and then completed a 5-year general surgery residency at the Universities of Pennsylvania and Rochester. She did her residency in plastic surgery at the Brigham & Women's Hospital and Boston Children's Hospital, two teaching affiliates of Harvard Medical School. She also completed a Fellowship in Craniofacial Surgery at Hospital Necker des Enfants Malades in Paris, France. Dr. Rodgers has been a surgeon since 1978, has been performing plastic surgery since 1984, and has had her own Denver-based, private practice in plastic surgery at Rose Medical Center since 1990. She has surgery privileges at SkyRidge Medical Center and Presbyterian/ St. Luke's as well.
Always active in the communities where she practices, Dr. Rodgers has been a contributor to a variety of publications, television shows and radio programs. She won the Bea Romer Women's Health Leadership award, was named a Top Doc by 5280 Magazine numerous times and made Channel 4 Denver's list of Best Doctors. She has been interviewed on NBC's the TODAY show, Colorado & Co, Colorado's Best and also by the Women's Chamber of Commerce here in Denver. She has been featured in Vogue, Allure, 5280 and other prestigious magazines for her expertise in plastic surgery and skin care. She previously was a board member of the Komen Foundation. As a breast cancer survivor herself, Dr. Rodgers understands the importance of overall well-being and strongly believes in the power of exercise, dance and music to restore health during illness and in recovery from surgery. To that end, she has worked with local dance instructors to create and teach stretching classes designed to help the recovery of breast cancer patients. An avid fan of ballet, she has also served on the board of the Colorado Ballet.
Beyond work, Dr. Rodgers is interested in reading, travel, foreign languages (French, Russian) writing, and figure skating. Dr. Rodgers is married and has one beautiful daughter and an adorable doggie daughter, Isabella.
Her interests as a plastic surgeon in Denver include cosmetic surgery procedures such as facelifts, eyelid lifts, brow lifts, laser resurfacing, fat transfer, rhinoplasty, liposuction, tummy tucks, body contouring, breast augmentation, breast lifts, labiaplasty, diVa vaginal rejuvenation as well as reconstructive surgery such as breast reconstruction and breast reduction.
Board Certification
American Board of Plastic Surgery
Professional Affiliations
American Society of Plastic Surgeons
American Society for Aesthetic Plastic Surgery
American Society of Maxillofacial Surgery
American Medical Association
American College of Surgeons
American Cleft Palate and Craniofacial Association
Schedule a consultation
Request an in-person consultation and we will look forward to getting in touch with you.