BBL CORRECT
BroadBand Light (BBL) Laser in Denver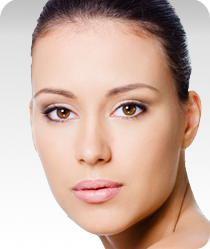 Broadband Light (BBL) treatments in Denver are used to smooth skin's texture, even skin tone and correct color pigmentation issues such as rosacea, flushing, sun damage, age spots, redness and/or birth marks. This technique is incredibly powerful and was recently the subject of a university study published in the Journal of Investigative Dermatology. The study's results suggest that BBL can promote anti-aging benefits at a molecular level, clinically altering cells to have more youthful genetic traits. With just four treatments per year, the anti-aging effects can last well over 10 years.
BBL Correct has proven particularly effective in the jowl, forehead and cheek areas and is also highly useful in the reduction of unwanted hair. Prior to treatment, patients should prep their skin with the products suggested by our skincare specialists to ensure the most outstanding results.
BBL Correct in Denver AT A GLANCE
Procedure
30–60-minute treatment usually performed with topical anesthesia for patient comfort. May require multiple treatments.
Benefits
Improvements in pigmentation, such as sun damage, age spots and redness.
Recovery time
No pain or after care required. Clients may experience a "coffee grounds" or "pepper" appearance 3–5 days after treatment, which is simply the treated, sun damaged surfaces sloughing off.
Potential risks
Temporary discomfort; irritation; sun damage.
Tips
Clients are advised to avoid direct sunlight and wear sun protection.
Schedule a consultation
Request an in-person consultation and we will look forward to getting in touch with you.